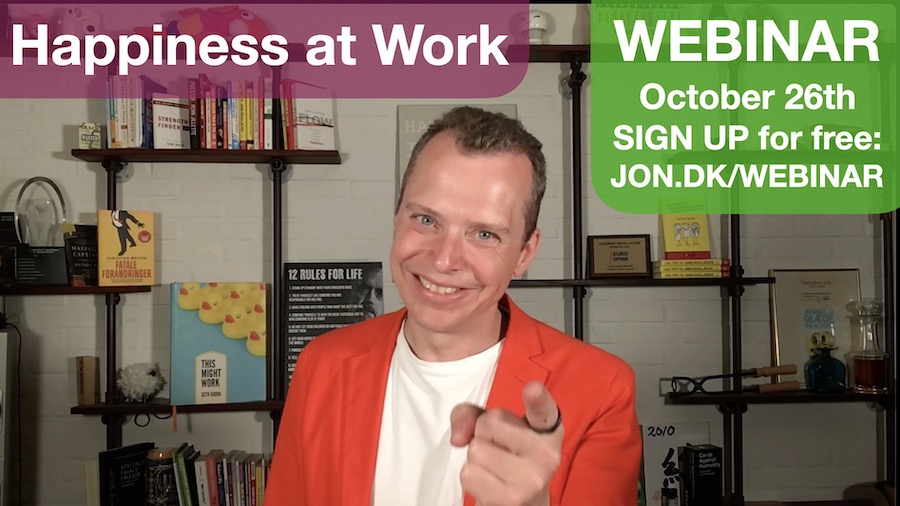 What we'll cover on the "Happiness at Work" webinar:
Why happiness should be a critical priority for any workplace.

What factores determine happiness and engagement?

What are known tripwires and frequent problems?

Individual strategies: Do this now.

Management approaches:

Get people to join your mission to create better workdays.

Contribute via Live surveys during the webinar.
Q&A:

The webinar will close with a questions & answers session with Jon.
This is webinar #13 in my open membership club, and the first chance in English. The recording will be made available after, for those signed up. 
Sign up now – no cost
Add your name to my list, and you'll reciece the webinar link right away.
My name is Jon
For 17 years I've given keynotes and held workshops on happiness at work, change management and personal productivity, for more that 40.000 people. My focus is on shaping the culture of the workplace, and on practical use-cases for the relevant theories, be those from psychology or management schools. Both online and in-person, my style is engaging and positive.
In addition to talks and workshops I've published three books. In english you'll find Hapiness at Work, an Amazon Bestseller. You can also listen to The HappyWays Podcast.